Welcome to TOPS,
the non-profit that is here to help kids everywhere do hands-on science with simple things since 1977!
TOPS Learning Systems is a nonprofit educational corporation. Our purpose is to create the highest quality, friendliest, hands-on learning activities you'll find anywhere, and to make them available everywhere, cheap! Our books cover a wide range of topics in science, math, and classroom management. 
What is this?
A free sample lab adapted from one of our 48 hands-on programs.
Teach it now, using simple stuff you already have or can easily get.
Find one of these sample labs for each of our books.
To print your copy, go to the product page of the book you are interested in and scroll down to the link "Download Sample Lab" for a PDF version you can print and use right now!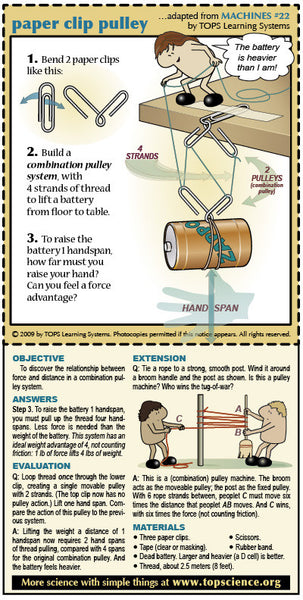 Need help getting started?
Contact us at customerservice@topscience.org for help finding the perfect TOPS books to fit your specific needs. We're always here to help!
We can also help with purchase orders, special shipping requirements, and